Early Bird Prize Draw
Big freezer? Collect or take delivery of your turkey or Christmas dinner bundle before 18th Dec to be in with a chance to win 30% off EVERY time you shop for 6 months.
For our busy drivers, Christmas is sadly not always the season of goodwill. Every year there's a mad rush as dishes sell out, slots book up and more and more people want their Christmas dinner delivered at the last minute. But it doesn't have to be this way, thanks to the joy of frozen (and, no, we're not talking about the film).
This year, we'd be enormously grateful if you could pick up your Click & Collect order or take receipt of your delivery before the 18th December. As well as the warm, fuzzy feeling that comes with knowing that your dinner for the big day is already sorted and safely tucked away in your freezer, you'll also automatically be entered into a draw to win 30% off EVERY time you shop for 6 months
On behalf of everyone here (and especially the drivers), we'd like to thank you for your help and wish you and your family a very merry Christmas.
Ed & Rosie
COOK CEOs
(And brother and sister)
Read the terms here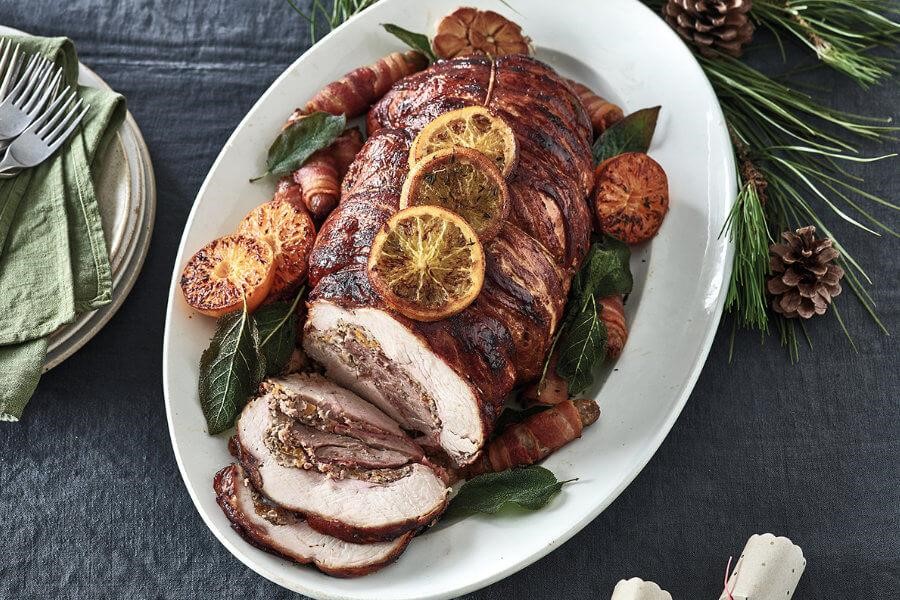 Celebration for 12
Enjoy a gourmet Christmas Dinner for 12. An extravagant crown of turkey and duck and all the trimmings for only £14.75 a head.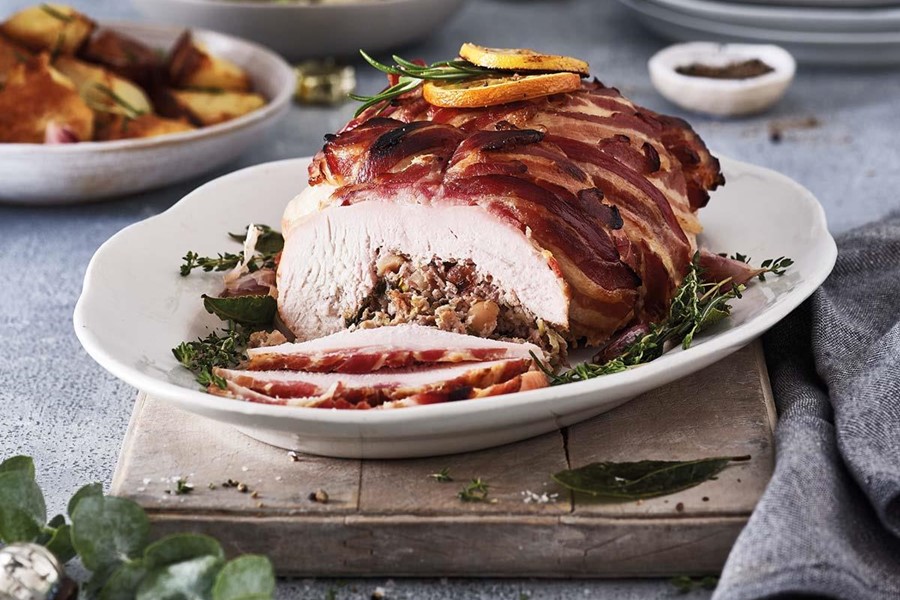 Christmas Dinner for 8
A gourmet Christmas Dinner for 8 for just £13.88 a head. Once the turkey is fully defrosted the lunch can be ready in 3 hours 30 mins.
Terms & Conditions:
1. The Competition is organised by COOK Trading Ltd ("COOK") whose registered address is The COOK Kitchen, Sittingbourne, Kent, ME10 3HH. By entering the Competition, entrants agree to be bound by these Terms.
2. The Competition is open to residents of the UK and Channel Islands aged 18 or over. Employees and agents of COOK and their associated companies (including the families of such employees and agents) are not eligible to enter the Competition, nor is anyone connected with the Competition. The eligibility of any entrant is at COOK's sole discretion.
3. Competition closes on 18th December 2022 at 11.59pm. Only Home Delivery or Click & Collect orders qualify for entry into the competition. Orders must be placed online or over the phone and delivered or collected no later than 18th December 2022. One entry for every qualifying order. No minimum spend for Click & Collect orders, but minimum order levels and delivery charges may apply for Home Delivery.
4. Each prize consists of 30% off every time you shop for 6 months, valid to spend in any COOK shop or at www.cookfood.net.
5. COOK does not assume any responsibility, and cannot accept any liability, for lost, damaged or incomplete entries submitted in store or for any lost or incomplete website entries or any technical fault or failed electronic data transmission. Any and all such entries will be deemed invalid. Proof of dispatch shall not be proof of entry.
6. The prize-winners will be chosen at random. COOK reserves the right to request written proof of age or identity of any entrant before they may claim a prize. Prize draw will be w/c 19th December 2022.
7. By entering the Competition, entrants agree that COOK may use their personal data for administrative purposes connected to the Competition, and that COOK may contact entrants (including by email) for such purposes.
8. These Terms shall be governed by English law and, in the event of any dispute, COOK and each entrant hereby submits to the exclusive jurisdiction of the English courts.
9. Once notified, the winners must reply within two weeks to make arrangements to receive the prize. COOK reserves the right to select another winner if contact is not made within this time.
10. Prizes are non-transferable and there is no cash alternative. We reserve the right to substitute prizes of equal or greater value and reasonable equivalence at any time.
11. Prizes are awarded at our discretion and no prizes will be awarded as a result of improper actions by or on behalf of any entrant.